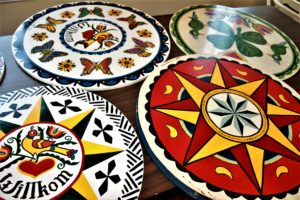 The Pennsylvania Dutch cultural influence on farming, food, language, music, and artistry still echoes in Lehigh County, where our organization's annual statewide event The Great Pennsylvania Music & Arts Celebration is hosted each year at the historic Allentown Fairgrounds over Memorial Day Weekend.
Nowhere is this presence more publicly visible than on the decorated barns of the region, which are painted in a unique manner quite unlike anywhere else in America. Images of stars and floral patterns in brilliant colors serve as focal points in the farmscapes. Large enough to be seen from great distances, these so-called "hex signs" or barn stars accent an otherwise ordinary agricultural building, elevating it beyond mere utility to a level of folk art.
Lehigh and Berks counties are the epicenter of this tradition, with more decorated barns than anywhere else in the United States. "Like two legs of the same pair of pants, together Berks and Lehigh counties form the heartland of the Pennsylvania Dutch," notes Patrick Donmoyer, Director of the influential Pennsylvania German Cultural Heritage Center at Kutztown University.
Although Berks County is home mainly to celestial designs, depicting sunbursts and geometric stars of varying numbers of points, Lehigh County showcases distinctive floral patterns, featuring radial bursts of petals in organic patterns.
These two regionalisms reflect the Pennsylvania Dutch terms once commonly used in the region, "Schtanne" (SCHTON-uh) meaning "stars" and "Blumme" (BLOOM-uh) meaning "flowers".
The "Blumme" floral patterns of Lehigh County often feature curvilinear patterns like rain-drop shapes. In a not-so-distant past, these barn decorations saturated the rural landscape of southeastern Pennsylvania, and only a fraction of those historical examples have survived to the present day.
In the 1950's, with the rise regional tourism, the art form changed from the strictly geometric designs found on barns to include other folk arts motifs such as hearts, flowers and birds. It also became popular to assign meanings to each of these modern designs.   Eric Claypoole, foremost painter of barn stars and commercial hex signs, explains, "the stars have always represented something positive to the Pennsylvania Dutch. Hearts stand for romance and love of mankind. Distlefinks (stylized golden finches) signify abundance. Scalloped borders suggest smooth sailing through life, and stars with pinwheels of alternating color represent humanity spinning through time."
Donmoyer [1] adds, "although no one quite knows what the first barn painter had in mind when they painted stars and flowers on their first barn, it is to recognize an interest and reverence for the heavens and the forces of nature in folk art." The late acclaimed Pennsylvania Dutch expert Don Yoder noted that "similar designs are among the oldest human expressions of art and are found in cultures throughout the ages across the globe."
According to Yoder, "these stars and flowers have also come to represent the robust culture of the region," which although initiated by the Pennsylvania Dutch, is being continued by diverse populations and communities in present-day Pennsylvania.
[1] "Hex Signs: Pennsylvania Dutch Barn Symbols and Their Meaning"; Patrick Donmoyer; Mastoff Press; July 1, 2013.