Latest News
Our thoughts on the Coronavirus crisis
Pennsylvania's Music Preservation Society is well aware of how stressful the current Coronavirus pandemic is on everyone, including the wonderful musicians and performers scheduled to take the stage at our Great Pennsylvania Music & Arts Celebration on Memorial Day Weekend in May.
Like everyone else, we have no idea how long the social distancing requirements will be in place. Most agencies have set eight weeks as the schedule for maintaining bans on large gatherings.
We have chosen to proceed as much as possible as if the Celebration is still on, but at the same time to plan in case we have no choice but to cancel. We recognize that other upcoming entertainment sites and festivals are faced with the same dilemma. We will try our best to keep you updated, although more than likely we will all be made aware by the media of any new developments that would prolong bans on public gatherings.
Thank you for your patience and continued support.
PAMPS to Hold Fundraiser at Steel Club
The Steel Club, formerly Silver Creek Country Club in Hellertown, will hold a fundraiser for Pennsylvania's Music Preservation Society at some point after the Coronavirus crisis has passed. Proceeds will go to support our admission-free Great Pennsylvania Music & Arts Celebration at the Allentown Fairgrounds.
Portion of PAMPS Membership Fee to Support Veterans' Programs
PAMPS is joining forces with the Lehigh Valley Military Affairs Council (LVMAC) and its member organizations to raise funds and awareness of issues affecting veterans. As part of its efforts, PAMPS is donating $5 of its $25 membership fee to LVMAC.
Want to help? Go to our membership page and sign up to become part of something GREAT.
Dave Fry Chairs PAMPS Education Committee
Award-winning musician Dave Fry is working with PAMPS to create children's programming as part of the Great Pennsylvania Music & Arts Celebration, and to establish a visiting music program for area schools.
Fry, who performs in schools and festivals as an adult and children's musician, has been a Lehigh Valley Music Awards recipient for many years. At this year's awards ceremony, he was named Outstanding Child Audience Music Performer of 2019, and also received the award for Folk Band/Soloist and College/Community Radio Personality. Fry plays traditional and contemporary folk music on acoustic guitar, mandolin and banjo. He entertains all ages, building community along the way.
Children's music and performances will be part of the Celebration this year on Family Music Sunday, May 24. The day will be dedicated to encouraging emerging young musicians and singers to find their place on the Main Stage, where they will showcase their talent before a live audience. As part of the day's programming, professional children's music performers also will be on stage to engage kids and adults alike in an entertaining and informative way.
"Bob Hope" USO Tribute Show Will Return for 2020 Music & Arts Celebration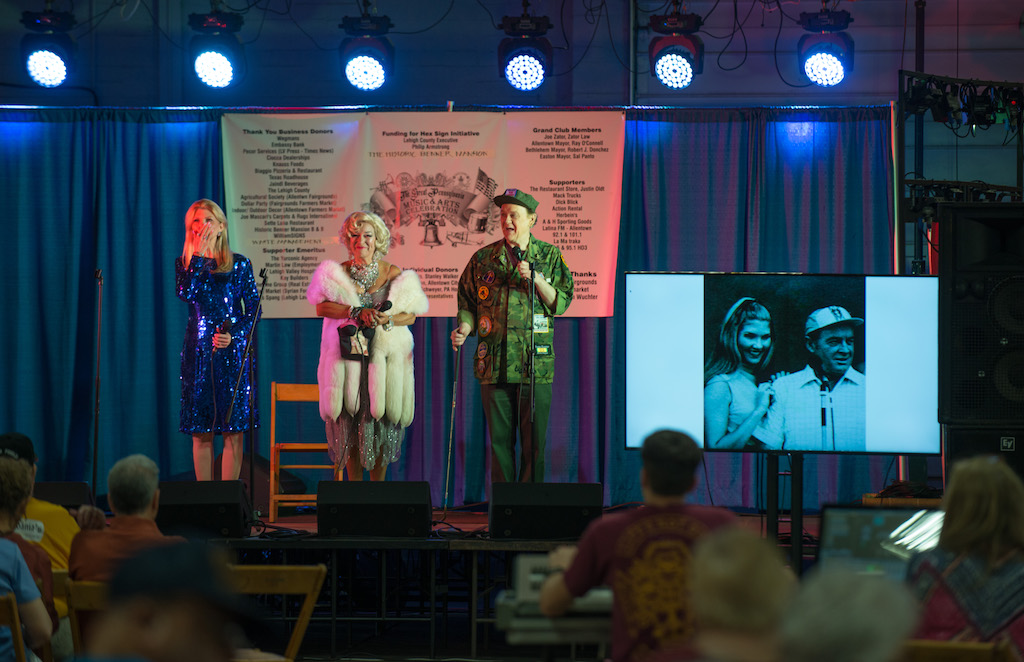 Give Yourself & Someone You Know the Gift of Music: A Year-Long PAMPS MEMBERSHIP
A one-year membership in Pennsylvania's Music Preservation Society (PAMPS), is the gift that lasts all year not just for you and your family and friends. but also for all those who benefit from the Society's Great Pennsylvania Music & Arts Celebration held every Memorial Day Weekend at the Allentown Fairgrounds.
Be Part of Something Great! Learn More