Latest News
"Music for Heroes" concert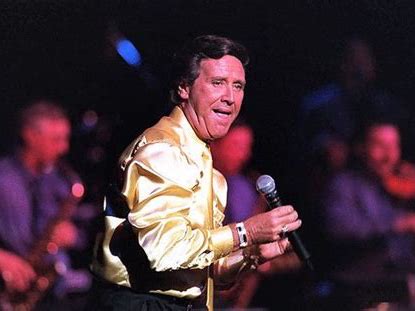 Pennsylvania's Music Preservation Society (PAMPS), in collaboration with the management of the recently reopened Ritz Barbecue in Allentown, will present a concert featuring polka king Jimmy Sturr & His Orchestra, popular songstress Kendal Conrad, and local favorites Steve Brosky and Steve Jones at the Maingate, 448 N 17thSt, Allentown PA on Saturday, June 26 from 12:00 PM to 7:00 PM.
For this show, PAMPS will provide "Music for Heroes" table seating for military veterans' groups and for members of volunteer medical organizations of Lehigh County that work in the Lehigh Valley protecting our people from COVID-19. Tickets for these heroes will be distributed by our honorary co-chairs, Allentown Mayor Ray O'Connell and Lehigh County Executive Phillips Armstrong. Please consider supporting this cause by donating at www.gofundme.com/f/music-for-heroes, especially if you can't attend the concert.
There will also be plenty of food vendors for you to savor tastes from around the world, and many crafters and other vendors for you to enjoy and shop while taking in great entertainment. Don't miss out on this great event.
Get Tickets for Jimmy Sturr
Jimmy Sturr (5:00-7:00) is an American polka musician, trumpeter, clarinetist, saxophonist and leader of Jimmy Sturr & His Orchestra, the country's most popular polka band. In addition to earning five gold records, Sturr and his orchestra have won 18 out of the 24 Grammy Awards given for Best Polka Album, are on the Top Ten List of the All-Time Grammy Awards, and have received more consecutive† Grammy nominations than any other artist. Jimmy Sturr & His Orchestra are a favorite of the Pennsylvania polka community along with polka fans from all over the world. www.jimmysturr.com, www.cbsnews.com/news/king-of-polka
Kendal Conrad (3:30-4:30) is a stylish singer-songwriter from Pottstown, PA whose single "Leader of the Pack" garnered over 26 million views on TikTok. Kendal sang a duet with Keith Urban onstage at Musikfest in Bethlehem, and has opened for dozens of country's hottest artists, including Blake Shelton and Kane Brown. She has performed the National Anthem for the New York Mets, Philadelphia Phillies, and NASCAR.  kendalconrad.com
Steve Brosky (1:30-3:00) has been writing, recording and performing for audiences in his native Lehigh Valley, Philadelphia and New York for several decades. He has shared the concert stage with music legends Warren Zevon, B.B. King, Leon Russell, and the Beach Boys. Steve's discography has garnered critical acclaim since the 1980s. In 2015, together with Director George Miller, Steve launched his one-man show, "Living Here in Allentown: Steve Brosky, the Musical."  stevebrosky.com
Steve Jones (12:00-1:00) performs as a singer-keyboardist and also supports the Lehigh Valley music community through his "Rocking the Valley" live online broadcast, which has featured over a thousand guests including Chubby Checker, Bill Haley Jr., and Craig Thatcher, and which has won multiple Lehigh Valley Music Awards.  www.rockingthevalley.com
There will be plenty of food vendors for you to savor tastes from around the world, and many crafters and other vendors for you to enjoy and shop while taking in great entertainment.
Get Tickets for Jimmy Sturr
Past Stories
Will there be a 2021 Celebration festival?
Due to unforeseen circumstances, we will not be holding our festival during Memorial Day weekend in 2021, but a later event is being planned. Stay tuned!
Thanks for your support of Music ALIVE in 2020!
Thanks to everyone who made "Music ALIVE" at the Allentown Fairgrounds a joyous and successful event on September 5! With performances by local favorites The BC Combo, James Supra Band with Sarah Ayers, and the Large Flowerheads, and Phil Forchelli's City Entertainment Systems crew running sound, a great time was guaranteed! PAMPS board member Jim Spang was largely responsible for organizing the many aspects of the concert, and we were rewarded with great attendance. We'd also like to thank our host Mike Mittman and everyone at Service Electric Cable TV, Inc. for televising our event. Free masks and hand sanitizer were available. We hope to continue presenting concerts that the whole family can enjoy. (Most photos: Jane Geist Photography)
Music ALIVE at the Allentown Fairgrounds on Saturday, Sept 5!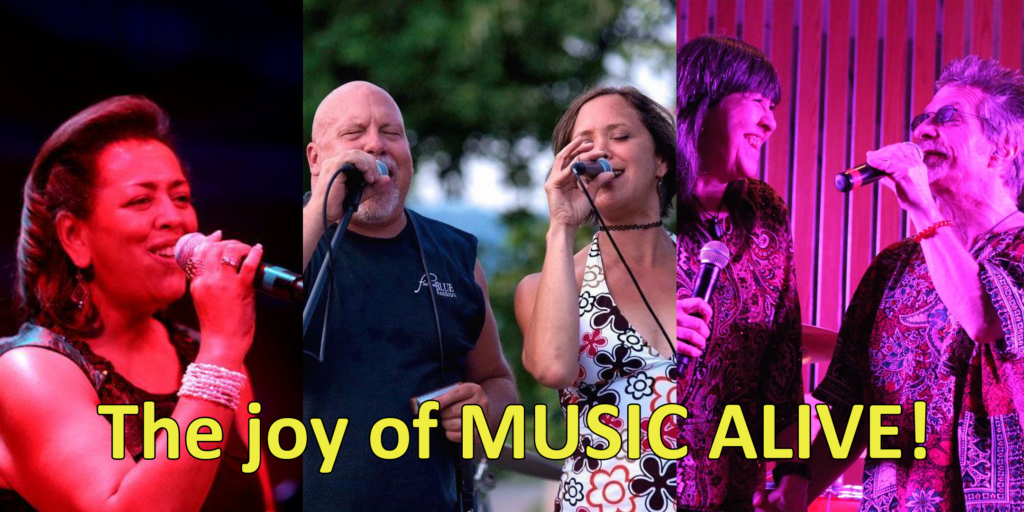 William Shakespeare said it best: "If music be the food of love, play on!" On the Saturday of Labor Day weekend, Pennsylvania's Music Preservation Society (PAMPS) will present "Music ALIVE at the Allentown Fairgrounds" featuring a day full of live musical entertainment.
Gates will open at 1:00, and performances will begin at 1:30 p.m. on Saturday, Sept. 5, and continue until 7:30 p.m. at the Farmerama outdoor stage area near Liberty and Lafayette Streets. The BC Combo and the Jimmy Supra / Sarah Ayers Band will play the afternoon sets from 1:30 to 5:00, and the Large Flowerheads will perform at the twilight concert from 5:30 to 7:30.
The BC Combo is among the Lehigh Valley's top performing groups, with a wealth of experience and passion for many genres of music. Bev Conklin has won numerous Lehigh Valley Music Awards for Best Female Vocalist, Best Blues Vocalist, and Best All-Around Performer, and received a Lifetime Achievement Award from the Blues Musician's Guild of the Lehigh Valley.
The Jimmy Supra / Sarah Ayers Band has repeatedly been voted Best Blues Rock Band by the LVMA, and features high-energy harmonica and guitar-driven blues rock. Jimmy has won Best Harmonica Player honors in a 19-year LVMA streak, and Sarah has won for Best All-Around Performer, Best Female Vocalist, Best Singer-Songwriter, and Best Album.
The Large Flowerheads bring to life the groovy musical sights and sounds of the '60s. Named the Best Entertaining Band at the Lehigh Valley Music Awards for an entire decade, the Flowerheads perform the music of the Beatles, Rolling Stones, Sonny & Cher, the Mamas & the Papas, Jefferson Airplane, and a lot more.
Click on Buy tickets to reserve one or more tables for 4 or 6 at the shows via Eventbrite. Prices are $15 per seat for either the afternoon show or the twilight concert, or $25 per seat for an "all day pass" for both shows.
All pandemic guidelines will be followed. Rain date is Sunday, Sept. 6.
Feast the Fair over Labor Day Weekend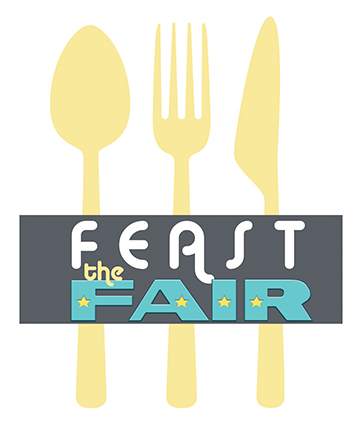 The Great Allentown Fair is giving the community the opportunity to get your fair food fix over Labor Day Weekend!
The FEAST THE FAIR event will take place, Friday, September 4 through Labor Day Monday, September 7 from 11:00 am to 8:00 pm.
Favorite Fair food vendors will be on the Fairgrounds property outside the Agri~Plex facility serving up all the Fair food classics – to go!
To continue the Fair Preview Night tradition, each attendee is asked to bring a dry or canned good donation to place in the Second Harvest Food Bank of the Lehigh Valley collection bin.
Admission is free. All attendees are asked to follow social distancing guidelines and wear a mask.
For more information regarding FEAST THE FAIR including a food vendor list, visit the Fair's website at www.allentownfair.com.
Memorial Day streaming event on WFMZ.com
Click here to read the WFMZ.com online article.
To access the streaming Memorial Day observance, go to WFMZ.com on Monday, May 25, then click on the link for the event. See below for information about this event. Thank you for being part of this important community remembrance.
Celebration 2020 canceled
Pennsylvania's Music Preservation Society (PAMPS) announced on May 2 that we have cancelled the Great Pennsylvania Music & Arts Celebration that would've taken place over Memorial Day weekend.
In lieu of the Celebration, the Society is partnering with WFMZ-TV 69, the Lehigh and Northampton County Executives, and the Lehigh Valley Military Affairs Council (LVMAC) to sponsor a community-wide live streaming event on Memorial Day 2020 centered around the nationwide Moment of Remembrance.
There was no responsible choice other than to cancel the Celebration, but we are now able to offer a way to keep Memorial Day from becoming just another day of physical distancing, especially since most parades and ceremonies usually marking the day are also being cancelled.
To that end, PAMPS is working to promote the event with the Lehigh Valley Military Affairs Council, which represents some 190 veterans' organizations. In announcing the Council's support, the president of LVMAC, Major General Gerald Still, said, "Our usual programs have been placed on hold due to the coronavirus. The Pennsylvania Music Preservation Society and others are presenting a Memorial Day program where we can all honor those who have served our country in so many different ways. Memorial Day is a day to remember all those individuals who sacrificed everything. I encourage all Americans to take a few moments on Memorial Day to hear and participate in our streaming program to honor the sacrifices made for all of us."
Beginning at 2:30 PM, the 40-minute streaming event will encourage residents to go out onto their porches or lawns while maintaining safe distances, or participate from their apartment windows, in order to wave at their neighbors to wish them well, observe the national minute of silence together at 3:00 PM, and listen to "Taps" and sing along with music streaming on their mobile devices. Residents may also want to hold up signs or wave flags during the event.
In addition to patriotic music provided by Lehigh Valley based performers, the program will feature county executives Phillips Armstrong and Lamont McClure Jr. addressing the importance of community connections, and expressing gratitude to nurses and doctors as well as first responders, some of whom are military personnel who have been pressed into service. The names of local healthcare workers and first responders who have died will be read. Then, General Still will pay tribute to our deceased military heroes who gave their lives in service to the country.
We're hoping you'll join with us in spreading the word by contacting your own list of email contacts and Facebook and other social media followers, to make them aware of the May 25 event and get them involved.
This will be the perfect way for us to stay connected as a community, without risking our health and safety. We're sure you will want to be part of this unifying event.
For those of you who purchased PAMPS memberships in 2019 and 2020, we are extending them until after Memorial Day 2021.
Due to the physical distancing required by the coronavirus pandemic, and the closing of schools, all the initiatives we've been planning have had to be put on hold. We'll continue to try to find ways to serve where it is safe and responsible to do so.
PAMPS to Hold Fundraiser at Steel Club
The Steel Club, formerly Silver Creek Country Club in Hellertown, will hold a fundraiser for Pennsylvania's Music Preservation Society at some point after the Coronavirus crisis has passed. Proceeds will go to support our admission-free Great Pennsylvania Music & Arts Celebration at the Allentown Fairgrounds.
Portion of PAMPS Membership Fee to Support Veterans' Programs
PAMPS is joining forces with the Lehigh Valley Military Affairs Council (LVMAC) and its member organizations to raise funds and awareness of issues affecting veterans. As part of its efforts, PAMPS is donating $5 of its $25 membership fee to LVMAC.
Want to help? Go to our membership page and sign up to become part of something GREAT.
Dave Fry Chairs PAMPS Education Committee
Award-winning musician Dave Fry is working with PAMPS to create children's programming as part of the Great Pennsylvania Music & Arts Celebration, and to establish a visiting music program for area schools.
Fry, who performs in schools and festivals as an adult and children's musician, has been a Lehigh Valley Music Awards recipient for many years. At this year's awards ceremony, he was named Outstanding Child Audience Music Performer of 2019, and also received the award for Folk Band/Soloist and College/Community Radio Personality. Fry plays traditional and contemporary folk music on acoustic guitar, mandolin and banjo. He entertains all ages, building community along the way.
Children's music and performances will be part of the next Celebration on Family Music Sunday. The day will be dedicated to encouraging emerging young musicians and singers to find their place on the Main Stage, where they will showcase their talent before a live audience. As part of the day's programming, professional children's music performers also will be on stage to engage kids and adults alike in an entertaining and informative way.
"Bob Hope" USO Tribute Show Will Return for the next Music & Arts Celebration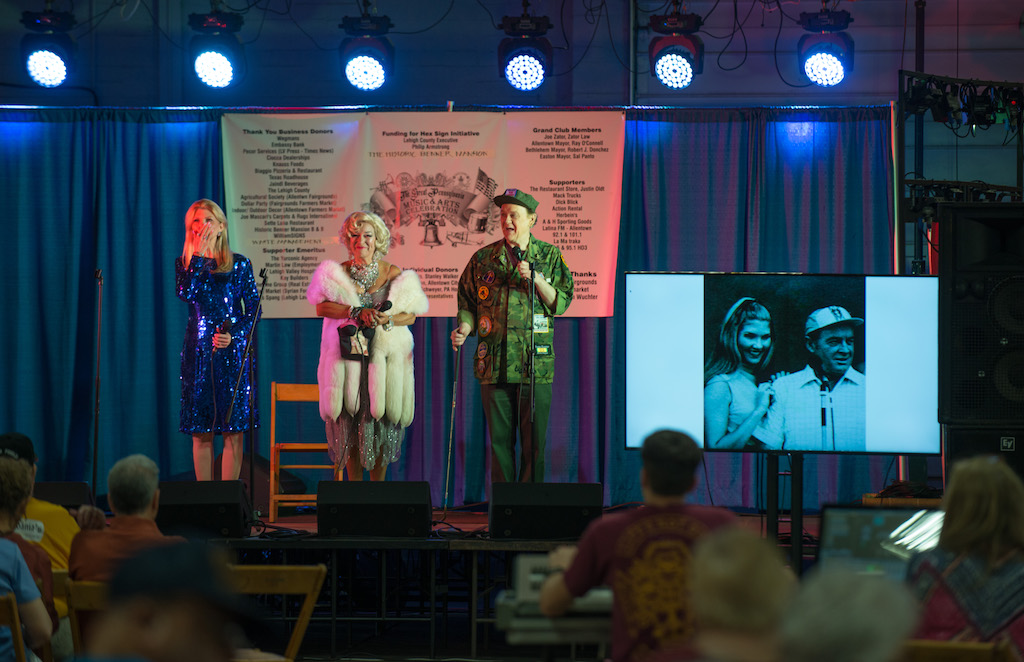 Give Yourself & Someone You Know the Gift of Music: A Year-Long PAMPS MEMBERSHIP
A one-year membership in Pennsylvania's Music Preservation Society (PAMPS), is the gift that lasts all year not just for you and your family and friends. but also for all those who benefit from the Society's Great Pennsylvania Music & Arts Celebration held every Memorial Day Weekend at the Allentown Fairgrounds.
Be Part of Something Great! Learn More